3KM.ca was not involved in the creation of this content.
3-tier fountains are easy to maintain, but as mentioned earlier, your stone waterfall fountain pump can get damaged. If your fountain stops pumping for one reason or the other, there are ways to fix it.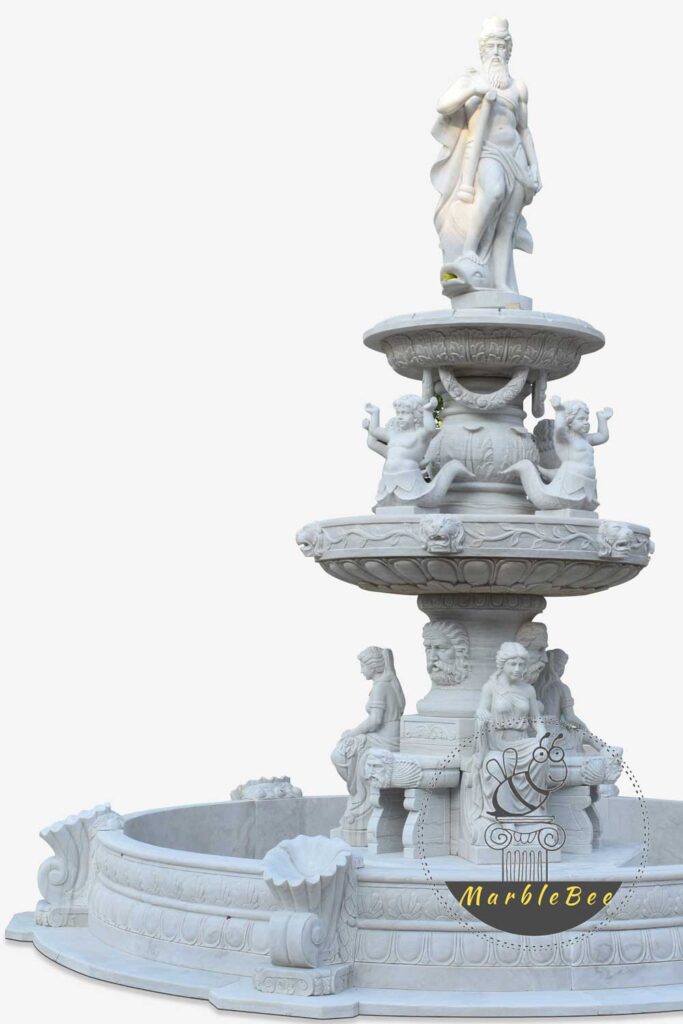 Checking to See if your Pump Still Works
Before concluding that your pump is faulty, you need to run a check on it. Firstly, open up the last tier or the tier you installed the pump while initially assembling it. It could be that it had a minor problem like dirt clogging the pipes. Nevertheless, it could also be a major issue like when the pump stops working.
There's usually a tube on top of the pump area. If it is clogged, you just need to get out the dirt and spray the pipes with water. This flushes out specks of dirt that you couldn't take out. Ensure there is a little pressure in the water you spray.
Afterward, plug the tube back on the pipe and turn it on to see if it works.
If it doesn't work, the problem isn't that the pipes were blocked.
Fixing a Faulty Pump
For more complex cases involving 3-tier fountains, you might need some equipment. For example, tubing adapters, magnetic impeller assembly, intake flow adjusters, and others.
To replace your pump, plug the new pump on the pipes and connect it to the supply. This works best if your three-tier water fountain does not have a foundational base.
An Alternative Method to Fix your 3-Tier Fountain Pump
You do not necessarily have to take out all the tiers of the fountain to fix it. Instead, you can cut a little opening with a machinery blade.
Carefully chisel the opening piece by piece. This would enable you to access the pump.
If the previous pump doesn't work after unclogging, you need to replace it. To do this easily, drill a hole from the bottom to space you open.
Afterward, cut the pump plug. Fix it back when you are done inserting it into the bottom of the fountain.
To make the pump firm, cover up the excess wire of the pump. Lastly, block the hole with a neat stone that matches your fountain color.
Finally, your three-tier stone waterfall fountain pump might have a warranty if it has just been purchased. If that is the case, you can take it to the store for an exchange.
To purchase any type of these extremely beautiful and intriguing stone waterfall fountains, we have just what you need. Buy your stone fountain or garden fountain today.
The Complete Guide on How to Update a Marble Fireplace
The beauty of your home doesn't just end with you having beautiful furniture. You should also work on updating every other décor items in your home. This includes buying and installing a stone or marble fireplace.
A Fireplace is a perfect addition to your home and is a great finish to whatever interior décor idea you have in mind. However, if you have an existing fireplace, you might want to try out a new look. Getting a marble fireplace makes it easy to achieve this.
What Is A Marble Fireplace?
A marble fireplace is a fireplace that is surrounded by marbles, giving it a luxurious appearance.
There are different marble stones you can use for the surface of your fireplace. Using any of the options is great because they are all very easy to update. Also, it is easy to maintain.
Benefits of Marble Fireplace
There are certain outstanding benefits of a marble fireplace. Some of these benefits are;
They are extremely easy to maintain- As mentioned earlier, it is very easy to maintain your marble fireplace. This is because it is very easy to clean.
Extremely high durability- Marbles last for a very long time. They not only last long but they still look as good as new when you properly maintain it.
There are a variety of marble stones to pick from- Marble satisfies variety of taste. It has several different styles, colors, pattern and even texture just how you like it. The type you settle for would also depend on the interior design style of your home. The difficulty lies in finding the best place to purchase your perfect fireplace choice. To sort this out, you can check through the amazing stone and marble fireplace option.
Marble stones give an extremely beautiful appearance to your home. Undoubtedly, most people opt for a marble fireplace because of the simple yet classy appearance it gives homes. Matching your marble fireplace colors perfectly with other items would make your home stand out.
It is unaffected by heat because of its texture- Marble is heat friendly. As a result of the fact that it surrounds a fireplace with high exposure to heat, one would expect it to tarnish. Instead, it lasts for a very long time still looks good as new.
Marble fireplace is easy to update- There are very simple ways you can update your marble fireplace design. The good news is that it costs very little.
At What Point Should you Update your Marble Fireplace
Updating your fireplace depends on you. It might be that the previous marbles were damaged or that you just want to change the outlook of your home. Whichever reason you have, you can easily achieve this even by yourself.
If you are working with a small budget, you do not have to carry out the extreme renovation. On the other hand, if your budget for a fireplace makeover is high, you can do more. This means that it is possible to take out the tiles and metals to replace them.
However, if you are on a budget or your home is temporary, you should try transforming with these amazing tips.
3KM.ca was not involved in the creation of this content. Information contained on this page is provided by an independent third-party content provider. 3KM.ca makes no warranties or representations in connection therewith.