3KM.ca was not involved in the creation of this content.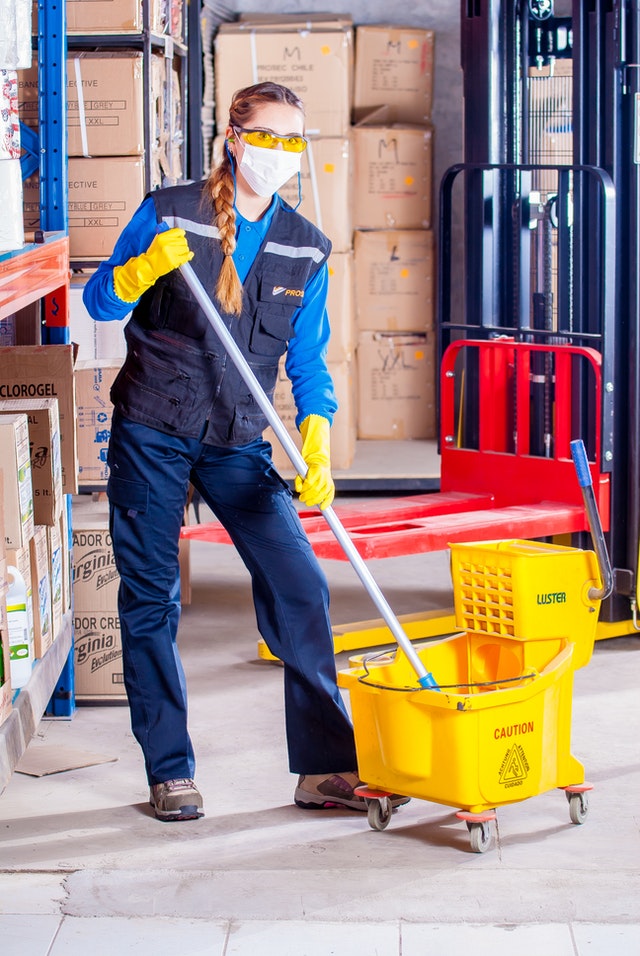 With spring just around the corner, now is the right time to clean the office. Nothing can be as daunting as cleaning the clutter of your office and areas around it, but this does not mean you should give up. Don't stress and be smart. Consider cleaning and tidying your workstation, including amending your bad old habits to help you live a better work life.
If your business is in need of expert janitorial services, contact Pro-Clean Toronto office cleaning for more information.
To get you on track, here are a few areas you want to look out this spring:
Give attention to your physical space
The overall arrangement and cleanliness can significantly affect your mood, creativity, judgement, and productivity. Re-looking a few important areas around your desk can give you a head start. Is your desktop space sufficient? Not enough space will mean more clutter and disorganization, which can kill morale and damage your productivity. Review all the materials on your desk and eliminate what is not necessary. Things like out of ink pens, old field notes and less important folders should be moved out. If you still think these items are important, consider setting up drawers and containers to store what you do not need for now.
Give your office lighting and furniture a boost
Proper lighting and the outlook of furniture cannot be ignored when discussing ways of improving the productivity of workers in the office. Is your lighting impacting adversely on your productivity? You need to ensure old bulbs are replaced to help make your office illuminated as it should. Rearranging furniture can go a long way in helping improve the quality of indoor air in the office.
Cleaning up your tech devices
With the proliferation in office technology and automation, most people take ages before remembering to clean up their storage devices. It is also tempting not to protect your physical and digital files from unauthorized people. Start by formatting devices that have outdated files. Ensure to bookmark important files, documents, and sites that you think will be important for your future research.
Do not forget the email clutter
Nothing can be more frustrating than email clutter. You can filter and archive all emails that you feel will be essential for reference. Delete or push irrelevant emails to the bin and let your email give you ample time when receiving and sending messages.
HOW TO FIND THE BEST OFFICE CLEANING COMPANY
The importance of a clean environment in an office have received little attention over the years. However, in recent times, business owners have seen the importance of having a clean office. The benefits of cleanliness in the workplace cannot be overemphasized. But if you want to reap the benefits, you will need a good office cleaning company. Just like every business, there are many cleaning companies out there, but if you want to get the best, there are certain things you will need to consider.
Reputation
Reputation is very important for every janitorial services company. So, the first thing you have to look out for is the reputation of the company. How do you assess this? You assess reputation using satisfied customers. The satisfaction of old customers is an indication that the company provides efficient and high-quality service. You can get this by reading customer reviews online but make sure that the reviews are authentic. Authenticity can be verified by checking multiple sources. If a company has good reputation, then they are a good company
Proof of insurance
This is a basic requirement when looking out for the best cleaning company for you. The company must have a proof of liability insurance for its workers. This way you are protected when the worker is injured while cleaning or working at your office.
Flexibility and Custom services
Different offices have different needs and come in different sizes. Your office could be a small one or maybe you employ more than a hundred workers, whatever the situation, the sign of a good cleaning company is its ability to customize its services to suit your office schedule. If a cleaning company can finish the process of cleaning according to your schedule, then it is a reliable company. Customization and flexibility ensure that the cleaning company gives you exactly what you want. This is a trait you should look out for if you want the best cleaning company.
Ease of Communication
This is a very important trait to look out for when choosing a good cleaning company. If the cleaning service cannot be reached easily then communication will be difficult, and this will hamper its activities in your office. The best cleaning company for your office should be friendly in their approach that is they should be approachable, and they must always be reachable.
Variety of services and reasonable costs
As earlier mentioned different offices have different cleaning needs, so a good cleaning company should be able to offer a variety of services so that you can pick out a suitable package for your office. Furthermore, a good cleaning company must have reasonable prices. The prices must not be outrageous and overly expensive. Also, in line with reasonable prices, the company must have a detailed document stating the prices for their individual packages. This is a proof of their organization.
Choosing the best cleaning company is pivotal in having a clean office. If the company are not good at what they do, then they will not give you the best.
For more information about office cleaning and Pro-Clean, visit our website at www.pro-clean.ca.
3KM.ca was not involved in the creation of this content. Information contained on this page is provided by an independent third-party content provider. 3KM.ca makes no warranties or representations in connection therewith.